The Eco-Warrior's Guide: Sustainable Off-Grid Living in Tiny Houses
Welcome to the Eco-Warrior's Guide: Sustainable Off-Grid Living in Tiny Houses! Are you ready to embark on an exciting journey towards a greener and more sustainable lifestyle? In this guide, we will explore the fascinating world of off-grid living and how it can be achieved through the magic of tiny houses. Get ready to immerse yourself in a world filled with environmental consciousness, innovative solutions, and stylish living spaces. Let's dive in and discover how you can become an eco-warrior and thrive off-grid in style!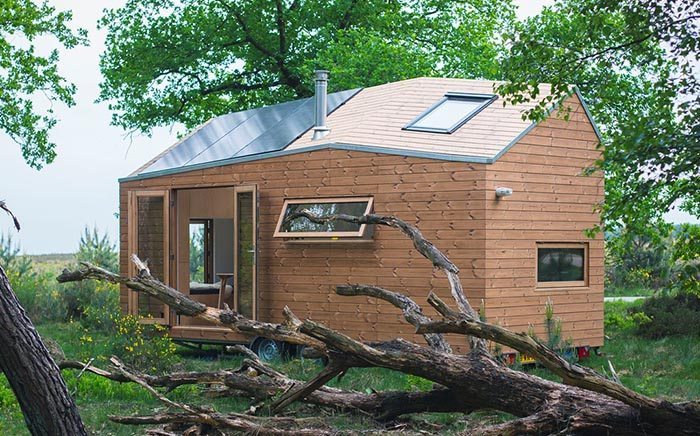 Embrace the Eco-Warrior Lifestyle!
Being an eco-warrior is all about adopting sustainable practices in our daily lives. It's about making conscious choices that reduce our carbon footprint and protect our planet. Off-grid living allows us to fully embrace this lifestyle by disconnecting from the conventional power grid and relying on renewable energy sources like solar or wind power. It's a chance to live in harmony with nature, to reduce our consumption, and to embrace a more minimalist way of life. By choosing this path, we become eco-warriors, leaving a positive impact on the environment for future generations to enjoy.
Discover the Magic of Off-Grid Living
Imagine waking up to the gentle sounds of nature, surrounded by breathtaking landscapes, and breathing in the fresh air that only off-grid living can offer. Off-grid living allows us to break free from the constraints of modern life and experience true freedom. It's an opportunity to reconnect with nature, rediscover our inner selves, and enjoy a slower pace of life. Whether you choose to live in the mountains, by the beach, or deep in the woods, off-grid living offers a magical escape from the hustle and bustle of city life.
Tiny Houses: Sustainable Solutions Unveiled
Tiny houses have become the epitome of stylish, sustainable living. These compact and cleverly designed homes are built with efficiency and sustainability in mind. They utilize space-saving techniques, eco-friendly materials, and often incorporate off-grid systems. With their small footprint, they offer an environmentally conscious alternative to traditional homes. Tiny houses encourage us to live with less, to prioritize experiences over possessions, and to reduce our impact on the environment. These humble abodes are not only aesthetically pleasing, but they also promote a simpler, more mindful way of life.
Your Guide to Thriving Off-Grid in Style!
So, you've decided to embark on your off-grid journey in a tiny house, but where do you begin? Fear not, for we have your back! Our guide will provide you with essential tips and tricks to thrive off-grid in style. From selecting the perfect location to harnessing renewable energy, you'll learn how to create a sustainable oasis that suits your needs and desires. We'll explore water conservation methods, waste management solutions, and even how to grow your own food. With our guide, you'll have all the tools necessary to create a thriving off-grid lifestyle that is both stylish and sustainable.
Text by Lucy Wang View 6 Photos Living off the grid doesnt have to mean sacrificing modern comforts In recent years prefab construction has given homeowners greater freedom to pursue selfsufficient lifestyles around the world even in remote and hardtobuild areasWhat are the Benefits of Living in a Sustainable Tiny House Here are a few reasons to consider sustainable tiny living Reduce your environmental footprint Perhaps the greatest value of living in a sustainable tiny house is that you can reduce your negative impact on our planetTiny Homes Use Less Energy Tiny homes are also more earthfriendly than a traditional house because their size allows them to use less energy They use far fewer resources than a traditionally sized house for daily needs like heating cooling and lightingMay 25
2023 at 1234 pm The Guide to OffGrid Homes Because the amount of available energy depends on the homes power systems and storage this means that many offgrid homeowners84 Tiny Living Get a Quote Key Specs Services Plans DIY kits readybuilt homes Price 7000 to 50000 Years in Business Since 2016 Why We Chose It Taking advantage of the supply chain ofEnvironment Conservation Energy View Slideshow If your lifegoals include living off the grid in some stunning locale then check this out weve rounded up the best pod homes that can beWeve reviewed five offgrid communities taking sustainable living to the next level and working to kick their carbon footprint Finca Bellavista Treehouse Community Costa Rica Surrounded by Costa Rican jungle these selfproclaimed adrenaline junkies live full and
connected lifestyles within their network of rustic handbuilt tree Houses Seasteaders are a new breed of tiny home pioneers who are settling where there is no land cost and everything is better than sustainable their homes are Eco restorative Meet the ECOPOD and SEAPOD The ECOPOD has 833 sq ft of living space and 360 degrees of windows mostly floor to ceiling in size
Congratulations, eco-warrior! You are now well-equipped with the knowledge and inspiration to embark on your sustainable off-grid living journey in a tiny house. Remember, this path may not always be easy, but the rewards are immeasurable. By choosing to live off-grid, you are not only reducing your carbon footprint but also inspiring others to embrace a more sustainable way of life. So, go forth and create your own eco-friendly oasis, where style and sustainability coexist harmoniously. Together, let's make the world a greener, cleaner, and happier place for everyone. Happy off-grid living!